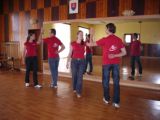 Dance club SVITAN is the Civil Association, registrated on Ministry of Interior of the Slovak Republic. It resides on north-eastern part of Slovakia in small town Svidnik. The headmaster of the club is Mgr. Viktoria Husarova. Dance club has near to 80 active and more than 30 passive members. The main tasks or the club are dance and rhythm moving as a free time and sport activity.

There are three branch of the club: Dance group SVITAN, Children´s dance group Svitanček and Majorettes group called Svitanky. Dance club prepares and organizes the dancing actions, for example: theatro-dance performances, dance shows, the members ball, dance evenings, dance lessons, etc.

The most important role of the club is to bring the dance (ballroom dancing, folk dance and show dance) to region, where it is not known yet. There is no dance tradition in Svidnik region in present days. The other way of importance of the club is to give the members opportunities to present their performance and shows home public and abroad, too.